Eachine E011 Mini 2.4G Headless Mode With 60000RPM 716 Coreless Motor Toy Brick RC Quadcopter RTF
5.0
(Reviews 34)
US$15.99
US$28.99
Product Description
Reviews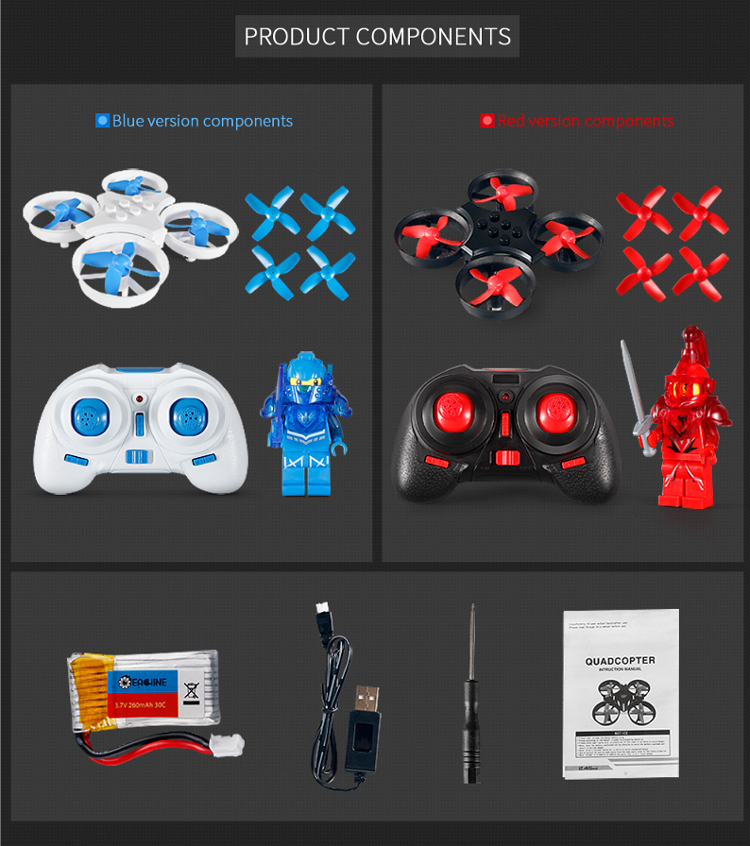 CUSTOMER REVIEWS
Average rating:
5.0
/ 5.0
WRITE A REVIEW
5.0

By Pigvador

2017-11-15

Eachine E011: Just a toy?

Frankly, with his Lego stuck on it, the Eachine E011 did not inspire confidence. I thought it was an E10 plus a toy for kids. I was wrong! I really like the E010, but the E011 is definitely better in terms of power, speed and agility. I highly recommend this gear, whether you are beginner or not, there is really something to have fun! pigvador.com

Awesome

This this is awesome!! My son likes to fly it around with obscure lego creations mounted on top...it can carry a good amount of weight ...it would be cool if there was a slightly bigger lego drone to really build upon....definitely buy several batteries and a multi battery charger

Just a note that the included instructions are nearly useless.

This thing is a blast. I gave the Lego guy to my son, and I fly this without it for peppy performance. I wish the red LED was on the back instead of the front, but I plan to hack this into a Tiny Whoop so that won't bother me for long. Just a note that the included instructions are nearly useless.

5.0

By Mom of 2

2017-08-30

Worth picking up!

I was torn on picking up the E010 or this one, the E011. After reading that this one had better motors and a higher capacity battery, I went with this model instead. This thing is a lot faster than I thought it would be. Handles crashes really well and flies for a long time. Over 5 minutes easy. The brick figure slows it down, which has helped with learning to control it. The brick plate is also compatible with official LEGO minifigures. We've been having fun building custom figures and putting them on the drone. Extra batteries are a must have. Love the price of this drone for the performance. This is a first drone for an adult and despite several spiraling out of control crashes, it's still flying!

Love it!!

Add an AOI cam and it's the best tiny whoop you can buy.
Load More
Your review is submitted successfully!
We will process your review within 1-5 business days.