Eachine E10WD Mini Wifi FPV with Altitude Mode 2.4G 4CH 6-axis RC Quadcopter BNF/RTF
5.0
(Reviews 21)
Where to buy? find more retailer
Coming Soon
Add this item wishlist.we'll contact you when it is available
ADD TO WISHLIST
Adding successful!
Coming Soon. Add this item to wishlist, we'll contact you when it is available.
US$39.99
US$89.99
Product Description
Reviews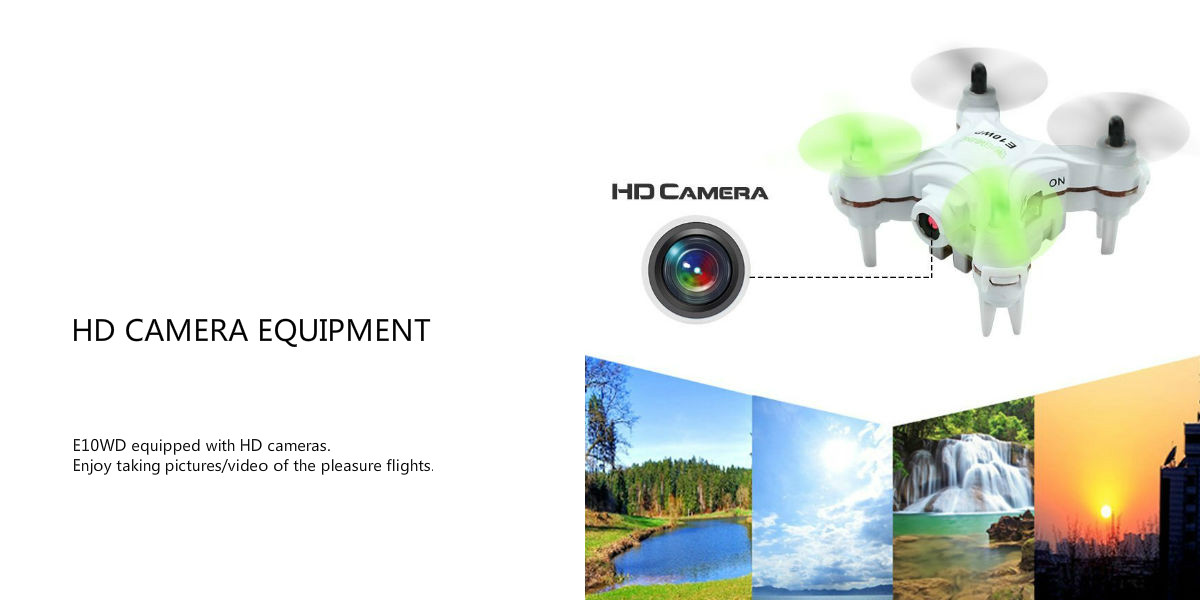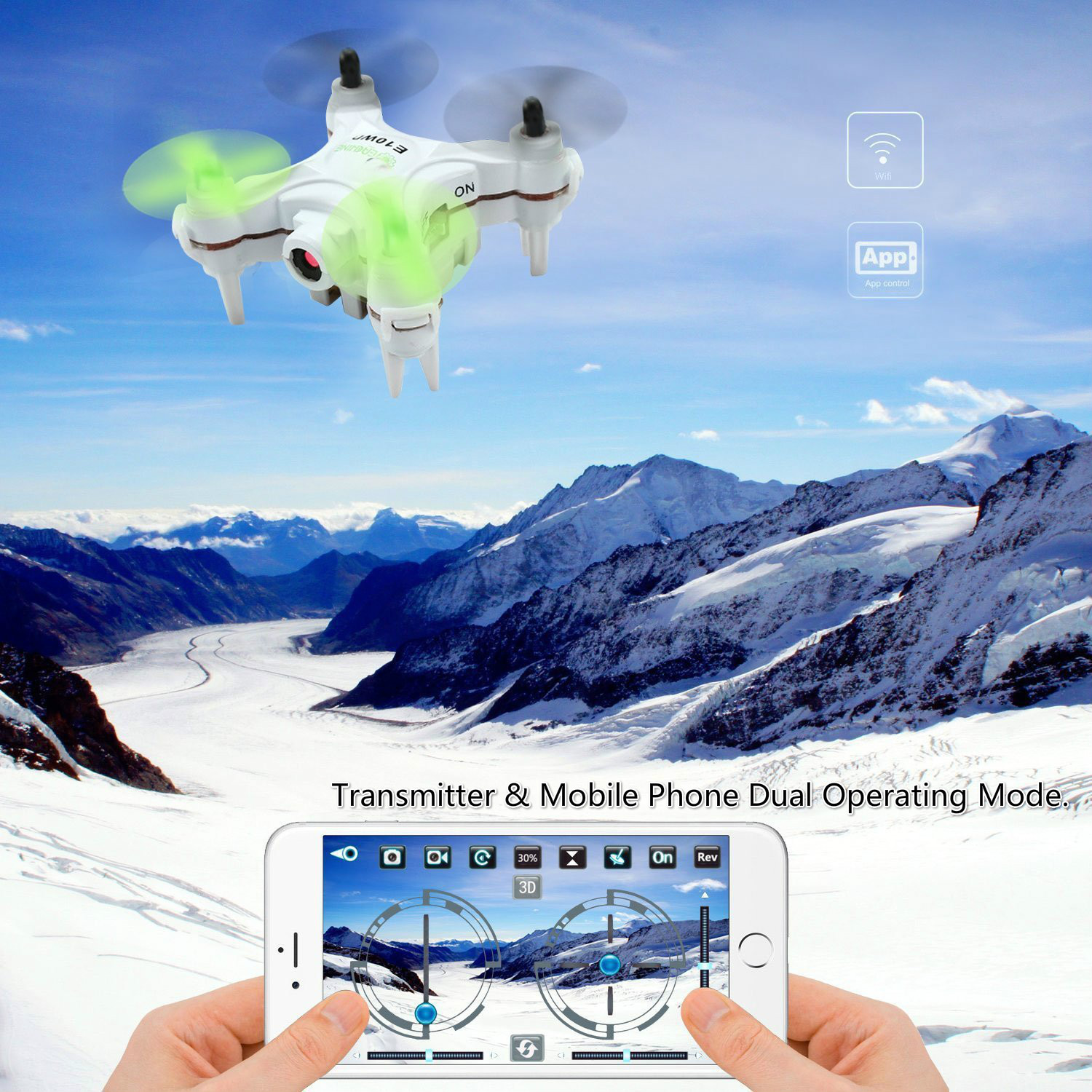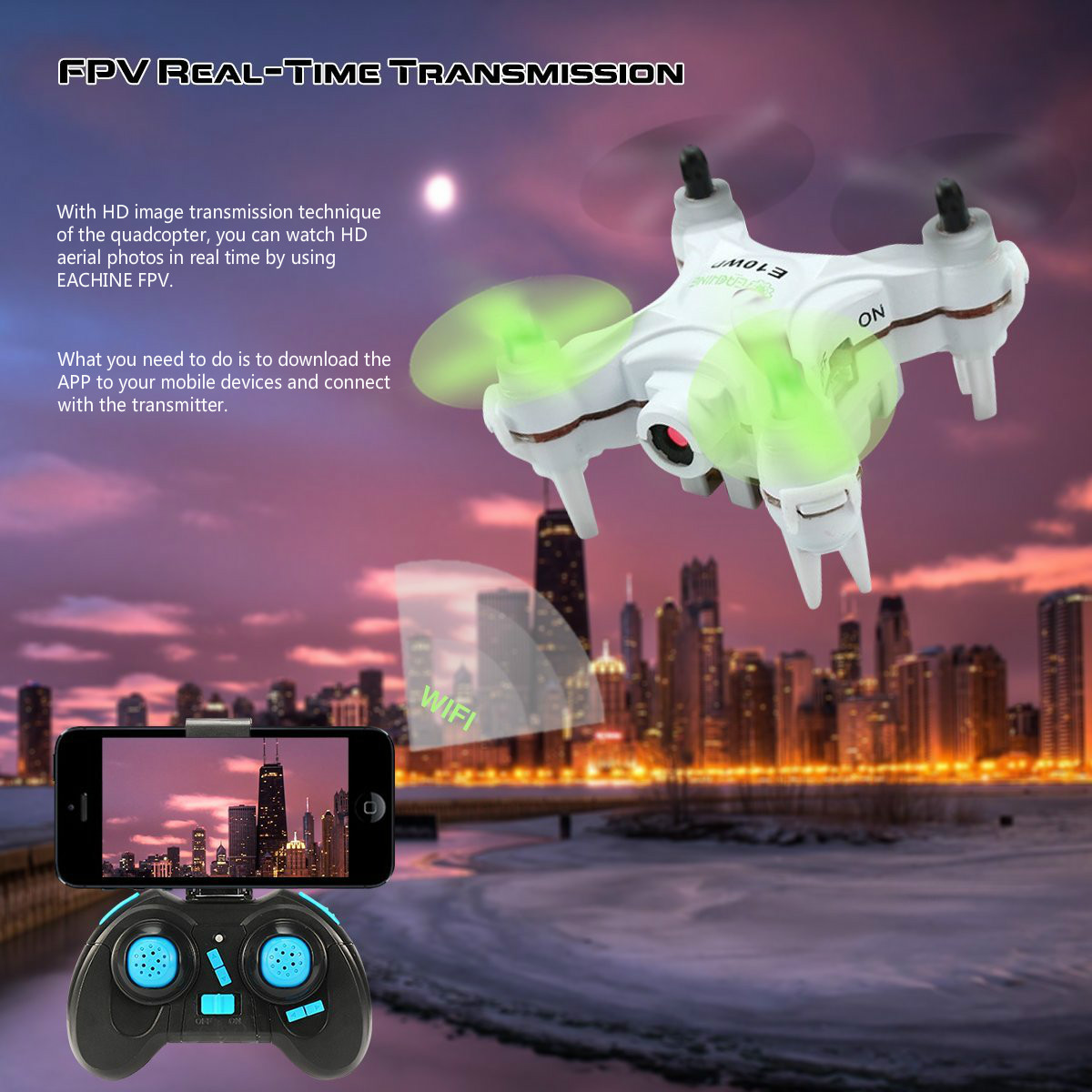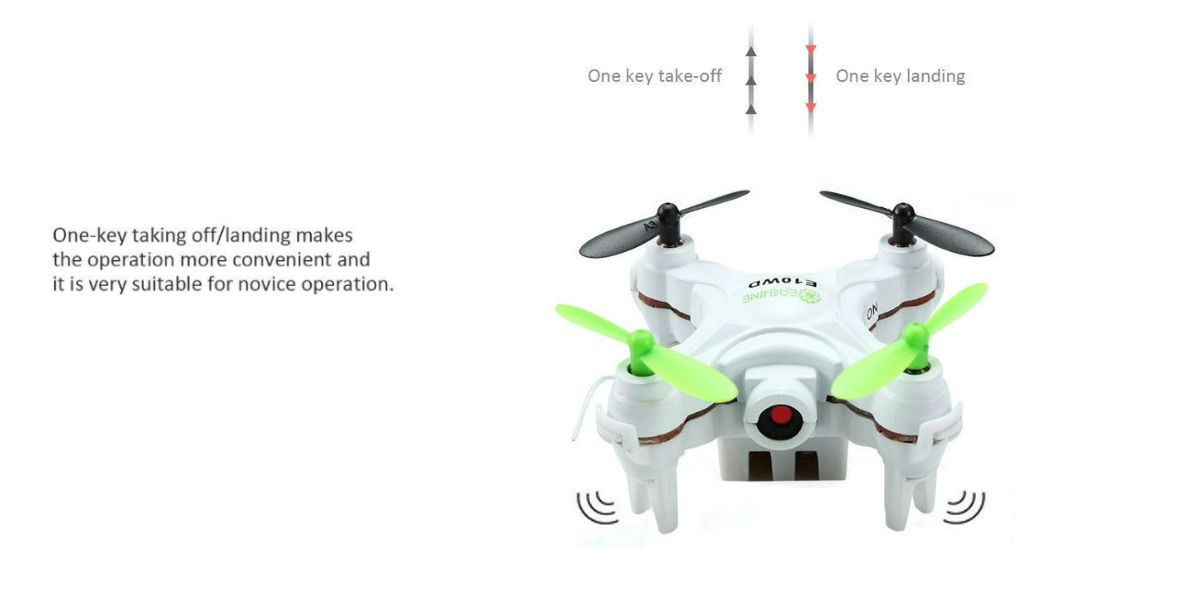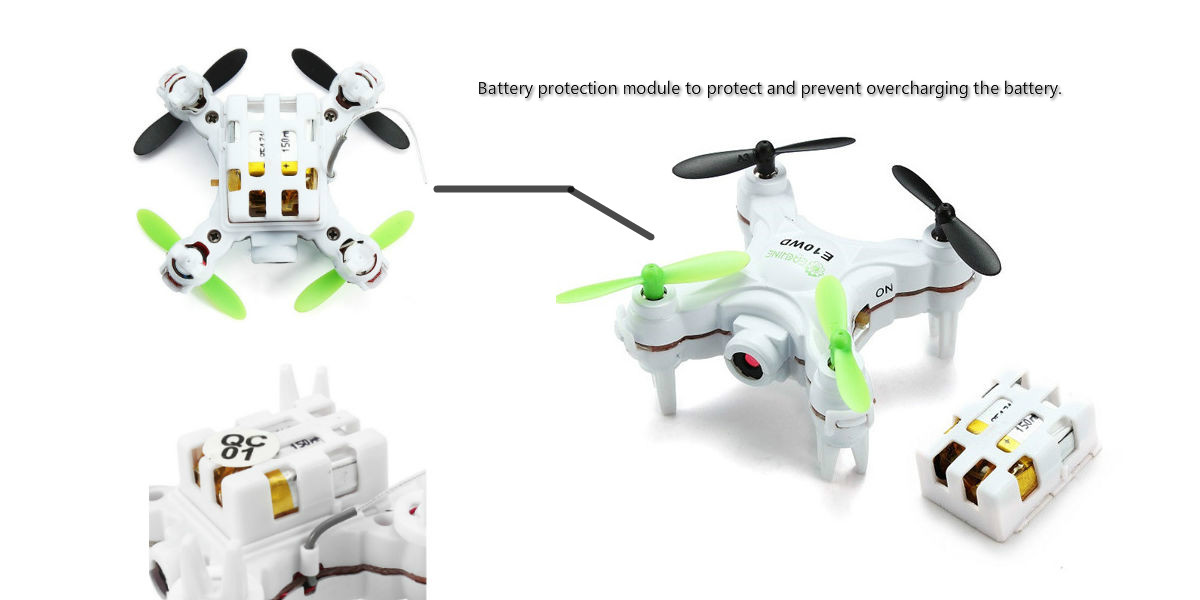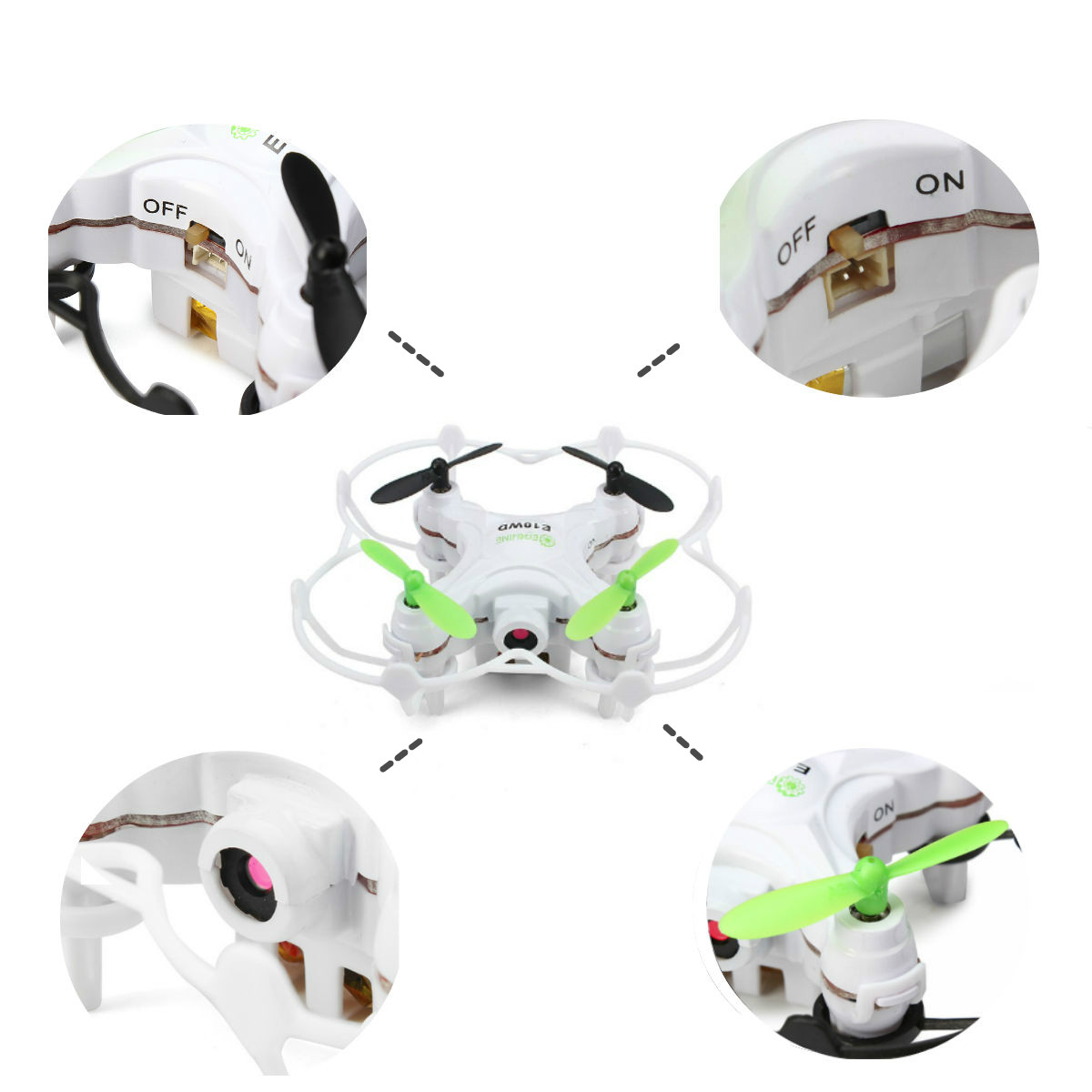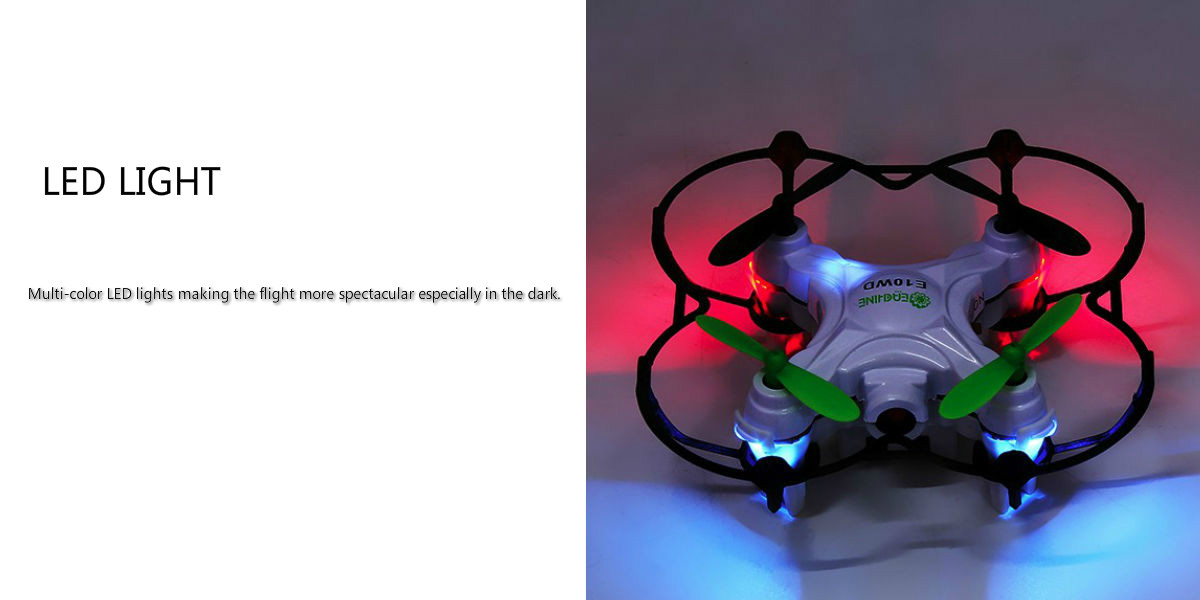 Description:
Item No.: E10WD
Item Name: E10WD Mini Wifi FPV with High Hold Mode RC Quadcopter
Diameter of Blade: 30mm
Channal: 4CH
Transmitter type: 2.4G
GYRO: 6-axis
Quadcopter Battery: 3.7V 150MAH Li Battery (Can be replaced)
Transmitter battery: 2 x AA 1.5V dry battery (Not included)
Flying Time: 4-6 mins
R/C Distance: 20-40m
WIFI FPV Distance: About 20-40m
Charging Time: 40-50 mins
Camera: 0.3MP (Resolution 640X480)
Size of product: 6.2 x 6.2 cm
Size Of color box: 14.5 x 8 x 10.8cm


Features:
4 channel transmitter: Ascend/Descend;Forward/Backward; Left/Right sideward fly; Left/Right rotation; Hover etc, flexible and comfortable.
6-axis gyro system makes CX-10WD very stable and easy to opearate.
Transmitter & Mobile Phone Dual Operating Mode.
Equiped with multi-color LED lights making the flight more spectacular especially in the dark.
Super small size, can be throw to fly.
E10WD has 0.3MP camera, can take video and pictures.
E10WD has latest mobile phone WIFI remote control mode, support IOS/Android, you can scan QR code to get the APP.
E10WD can be operated in 3 flying modes. High/Low speed modes can be changed using a transmitter and the third mode in 360°high speed rotation mode in which the aircraft's light dazzle.
E10WD is equipped with a battery protection module to protect and prevent overcharging the battery.
With high density air presure sensor which can precisely hold the height, stable and easy to operate.
E10WD mobile WIFI distance: 15-30 meters, suitable for indoor flight.
E10WD comes with one-touch take off, one-touch landing options as well as one key to return function.

Package included:
1 x E10WD quadcopter
1 x 3.7V 150MAH Li Battery
1 x Transmitter
4 x Spare Blades
1 x USB Charging cable
1 x Manuals
CUSTOMER REVIEWS
Average rating:
5.0
/ 5.0
WRITE A REVIEW
It a good drone but the battery dies really fast just need ...

It a good drone but the battery dies really fast just need extra battery for it it hard to find the battery for it

5.0

By Dan Shore

2017-04-25

Great little FPV quad!

This little E10WD FPV quad exceeded my expectations! Flies amazing well, rock solid and actually usable for true FPV flying with decent picture and very little dropouts. I fly it around the office at work and other coworkers into small quads are impressed with it too. Like others, I wish I had more batteries to swap out to fly it longer in one session.

Nice indoor flyer and starter FPV

Fun to fly and a nice trainer . I really like the removable battery. The camera is good for the size and price . This little fellow flies long and performance stuns better with the prop protesters off.

5.0

By WEI LIN

2017-02-16

Amazing and fun little beauty

I highly recommend getting this version of this quad. having tried controlling via both a Samsung S5 and an iPhone 6S plus I found that using the phones strictly as screens and using the controller to be the best way to go. obviously at this size wind plays a major factor and it can get pushed around but this quad is best enjoyed indoors. the most amazing thing is the quality of the video. for such a small quad and tiny camera it truly is amazing.Altitude hold function works amazing.!

It comes with easy controller with mount so that I can huck my ...

I bought EACHINE E10WD Mini Wifi FPV Quadcopter with Camera from Amazon last week this one is the coolest drone i have ever fly. It comes with easy controller with mount so that I can huck my phone with it. It's a wonderful entry level drone if someone planning to buy big one I will highly recommend use small one first the go for the big. One of the coolest feature is Barometer altitude hold,drone altitude specified a flight mode which is amazing in this inds of small drone. Its comes with some extra prop which is helpful.
Load More
RELATED PRODUCTS
Your review is submitted successfully!
We will process your review within 1-5 business days.